Learn about the features and resources available to help you successfully set up your #BeHeard Survey.
Thank you for selecting us as your valued survey partner, we are excited to work with you! To set up your free #BeHeard survey, we will walk you through the steps and each section of our self-service model to ensure a successful experience.
Video: How to Set Up Your #BeHeard Survey
Step 1: Log In (My Dashboard)
When you log in, you will always be greeted with updates and action steps on your personalized dashboard. This will help ensure you never miss a beat and can successfully move your survey process forward.

Step 2: Find the Company Admin Page

On the top navigation bar, you'll find Company Admin. This page will direct you to the heart of the platform where you can access everything you need for your survey. You will first land on the Company page. This is where you can quickly see your company profile, contact information for your Sparck partner, your survey history, and complimentary resources to increase employee participation and gain quality results. You'll also be able to learn more about upgrading to the full report if you are looking to personalize your strategies and boost engagement in your workplace.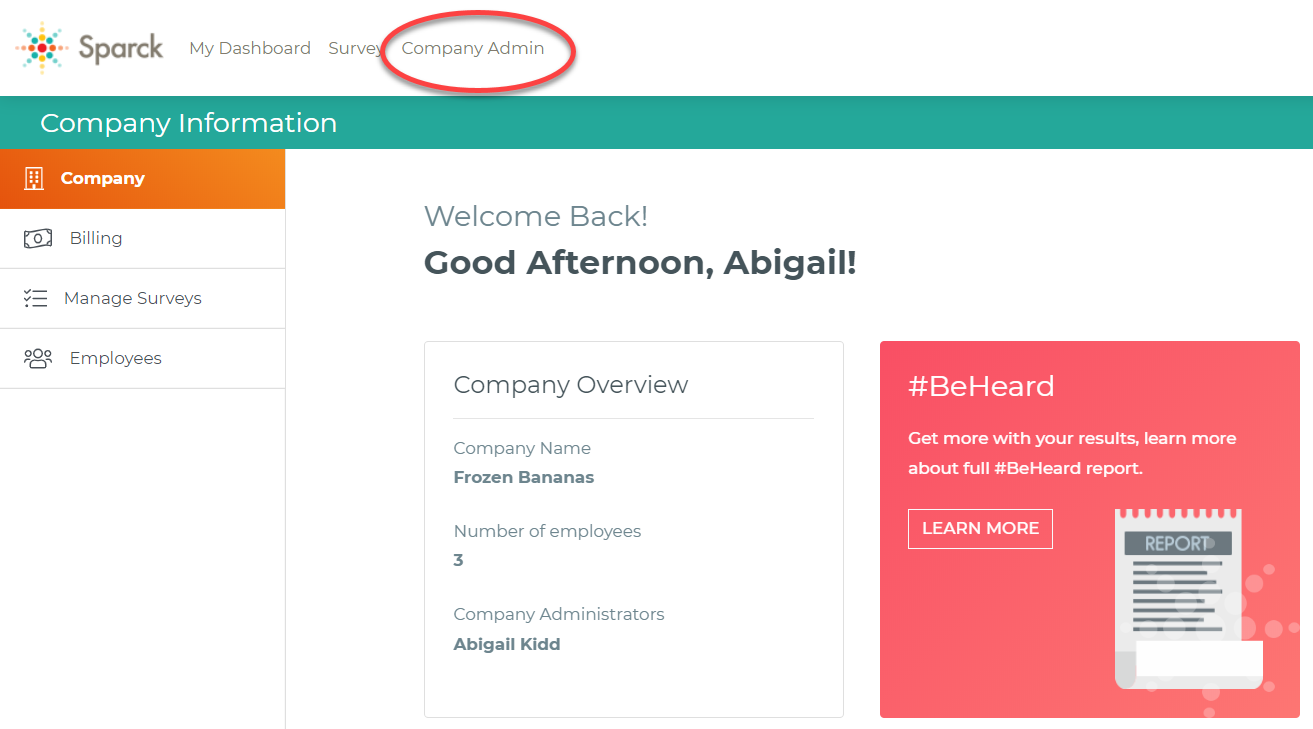 Step 3: Create and Personalize your #BeHeard Survey
It's time to make the survey your own. This is where you will set your survey launch and close date as well as add your customized survey questions.
To set up a new survey, go to Manage Survey on the left side of the screen and click New Survey, circled below.
You can personalize your survey name, set your open and close date, and add custom questions. There are resources hyperlinked in each section, circled below, that will direct you to best practices for your launch strategy and to a library of questions if you want ideas.

If you need to make any changes to a

scheduled survey

, go to Manage Survey on the left side of the screen. Here, you can make any changes to your survey with Edit Survey. You can edit your questions, change the survey dates to push back the survey, or extend the survey timeline.

Note: If you need to change the close/end date of a survey after it's already been opened, learn how you can easily extend the survey timeline.
Step 4: Upload your Employee Information
Once you personalize your survey, you can add your employees from Company Admin --> Employees. You can easily add your employees either individually or through a bulk upload.
Coming soon, you'll be able to upload your employee information through your HRIS System. For now, please add your system to the list so we can look at future integration opportunities.
To Individually Add Employees, you complete the fields for each employee on this page:

For a Bulk Upload, you can download the excel spreadsheet from this page:This excel document includes two salmon colored columns where you can add custom demographic fields based on the data you want to capture. The only required fields are in blue. This information will be used to filter through your #BeHeard results if you upgrade to the full report to personalize your engagement strategies.

Our report cannot filter down to groups smaller than five people to ensure employee confidentiality. Check out our #BeHeard Confidentiality Promise for more information.
Step 5: Upgrade to the Full #BeHeard Report
From the Company Admin page, you can find more information about upgrading to the full report (see arrow below).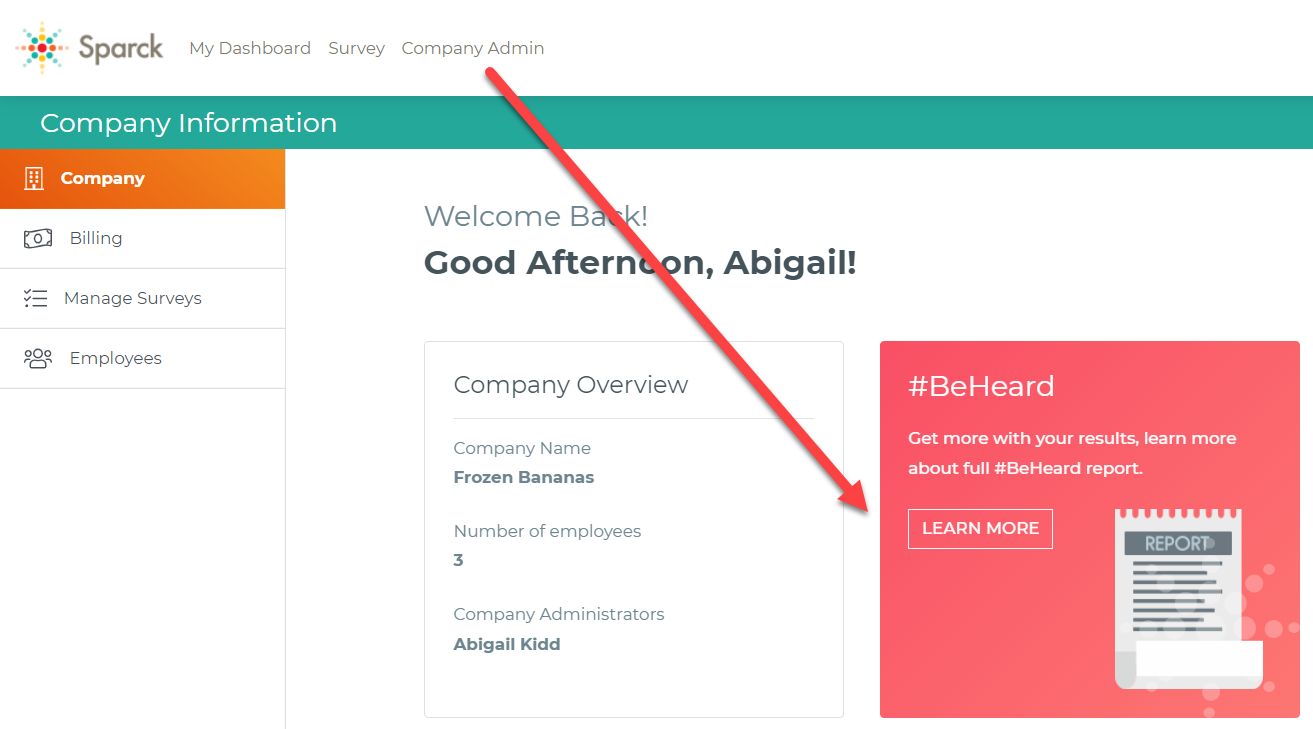 The full report provides actionable results that take a deeper look into your workplace demographics - such as department, location, position title, and more - to help you increase employee engagement and productivity within every area of your organization.
If its helpful, here's a video to upgrade!
Next Steps: