Human Resource Leaders are now Business Executives with a specialty in HR.
The role of Human Resources (HR) has changed drastically in the past few decades, transitioning from administrative in nature to more of a strategic role. The closer that HR and the organization's overall business strategies align, the more competitive companies can be when anticipating and responding to changes in the market.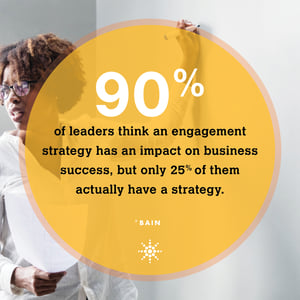 The first step to aligning business strategies is to secure executive buy-in and show the correlation between HR initiatives and the company's bottom line. Did you know that 90% of leaders think an engagement strategy has an impact on business success, but only 25% of them actually have a strategy?
That's why we built the Employee Engagement Cost Analysis.
We want to equip HR leaders with research proven data to show the return on investment (ROI) of their engagement strategies to gain executive buy-in and move these strategies forward. We've found that executives like to clearly see the alignment between HR's strategic position and organizational outcomes.
Download Cost Analysis
So, if you haven't already, make sure you visit our Cost Analysis Resource Page to download your Free Employee Engagement Cost Analysis and receive the following tools to be prepared for any meeting:
A branded one-page Cost Analysis overview to easily customize and present your results.
A Reference Page highlighting all calculations and research sources.
A Sparck Engagement Calculator to personalize results based on your company data. Learn more HERE.
The Cost Analysis doesn't need to be just an organizational strategy, it can also be used to evaluate different departments and teams to see how an increase in employee engagement can impact their business performance. The opportunities are endless when it comes to engagement and should touch every part of your organization.
Tutorial Video: How to Use Cost Analysis and Calculator
Here's a tutorial video introducing you how to use the Sparck Calculator and the different features to help you complete your Cost Analysis.
Next Steps: